Summer is relaxing, but I love my life to be structured. I enjoy waking up every day and knowing what I have ahead of me. Summer is more of a fly by the seat of your pants time of the year; I am more of a plan everything out kind of girl. Now don´t get me wrong,  after a few weeks into school I am TOTALLY over it! Something about prepping for the new school year excites me: revamping your wardrobe, picking out new school supplies, picking out new makeup, etc. Am I the only one that feels the need to get new everything every new school year? Anyways, I am going to share where I am shopping for back to school, what school supplies are a total must have, and what I am doing to prepare myself for my senior year of high school! (I am so excited for my senior year and college! Wahoo!)
Clothing
My clothing sets the tone for my mood, my confidence, and the year set before me. For me, clothing makes the school year. Summer should be renamed the three months that I plan what I am going to wear for the next nine months. Haha! All of y´all probably can imagine that I have been doing some back to school shopping. I am going to share with you all the stores I have been buying from and what is on my wishlist! Happy shopping! XOXO!
---
REVOLVE
---
SHOPBOP
---
School Supplies
Buying new schools supplies has always been one of my favorite parts about back to school. I love buying aesthetically pleasing notebooks, spirals, and planners. I want all of them to coordinate and match. Is anyone else like this? I am sharing my must-have staples such as my favorite pens.
Must-Haves
I am sure you have seen everyone with the Paper Mate Flair pens. I love writing in my planner with these pens, they are great for color coordinating classes and just livening up a dull piece of paper. This package is only $19 and has twenty-four different colors to choose from.
These Paper Mate Profile  pens are an absolute must-have! If you take nothing away from this post, just know that you have to get these pens. They come in tons of fun colors and no other pen will ever write as smoothly as these. The ink just glides on the paper! Did I mention that this specific pack is on sale for $5, originally $11. Now, if you hate color or just need plain red, black, or blue pens you can buy just packs of those colors.
---
Planner Envy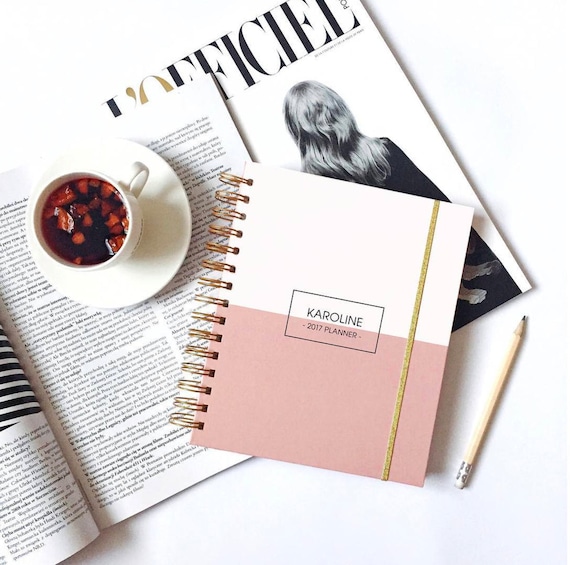 This custom planner is the cutest. I monogram everything or at least put my name all over it. It also has a hint of pink which makes my heart happy! Custom planners prevent you from having matching planners with five other classmates and they add a personal flair.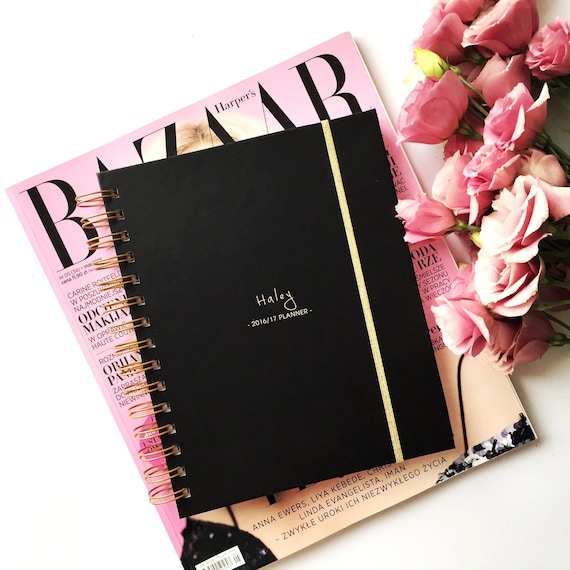 If you are not a pink kind of girl you can purchase the black planner here.
---
COPY ME
Below I have listed all the school supplies I have purchased this year. Of course, I already purchased my must-haves above, but this is everything else I purchased on top of my must-haves. You guessed it…it is all pink!
Though the custom planners above are to die for, I fell in love with this leopard and pink planner. It is also half the price! (School supplies can get expensive, especially if you are me.)
I bought this hot pink five subject spiral for math class. I prefer to use five subject spirals for math. Each section is used for something else. Ex: notes, quizzes, tests, homework, etc.
I bought two of these pink one subject spirals. I will use these for taking notes for the rest of my classes. I am sure I will need more than two, but I will purchase them as the year progresses. Is this not the prettiest shade of bubblegum pink?
I will be using these six pink folders to organize my school work for each of my classes. Last year, I bought a huge binder to organize all of my homework and papers for each class. That lasted for about a month and then I started stuffing all my papers into one poor folder. This year I am going to have one folder for each class. Folders are less bulky than binders and a lot easier to store papers in, you don´t have to worry about opening and closing those three rings.
It is hard to tell from the picture, but these are baby pink labels.  These will be used to label the six folders and any additional notebooks and spirals. I will include my name and subject of each class. This will prevent your items from getting lost and also keeps your organized.
I expressed above my love for these Paper Mate Flair pens. I wanted just pinks ones though, so I bought this pack of hot pink pens. How cute!
I struggle to drink as much water as I should, so I purchased two of these 40 oz. pink Hydro Flasks. They keep my water cold, look cute, and will remind me how much water I need to be drinking during the school day. Yes, I will be drinking 80 ounces in a school day. If you think about it, it only comes out to 10 ounces an hour.
---
Happy shopping and good luck with this next school year to come. I cannot wait to share my journey through my last year of high school and the start of college. Much love!