It can be hard to put down the cookies and cake and even harder to pick up the vegetables and fruits. I myself am using these tips to get myself back on track for Summer, I have fallen off this year due to lack of time, stress etc. No excuses! I hope these tips and tricks work as well for you as the do for me! Fun Fact: Weight loss is 70% diet and 30% exercise. Though exercise is great for your health and for defining your muscles, the real change is made in the kitchen!
Have Easy & Healthy Snacks Readily Available
Junk food typically just seems convenient in most circumstances…the drive through, chips and crackers, candy. Those grab and go snacks typically are on the unhealthy side. A big game changer for me is having healthy snacks that I can fix real quick when a craving hits me or I need something as I run out the door. All these snacks are delicious too! Healthy eating does not have to be boring and disgusting.
Below are some of my all time favorite healthy snacks!
Kind Bar in Caramel Almond Sea Salt
I love sweet and salty, anytime I am craving something sweet I grab a kind bar. The caramel almond sea salt is my all time favorite, but the dark chocolate sea salt is a close second. The reason why I love these bars is because they contain all natural ingredients, they are low in sugar (5g), they contain protein and fiber, are gluten free, and non-GMO. What a lot of people do not realize is that sugar is really what puts on those extra pounds, not carbs or fat. Sugar hides in everything from bread, sauces, crackers, granola, fruits, almost everything sold at grocery stores. That is why I love Kind bars, they satisfy my sweet tooth, but are not high in sugar. Kind bars are sold on Amazon and in all grocery stores. They have tons of flavors so make sure to check them out!
Skinny Girl Popcorn – Butter and Sea Salt
Popcorn is one of my favorite snacks. The crunch and the salt satisfy my savory craving. I love a good potato chip, but those are not great for achieving that summer body! I hate popcorn that is overly salty or buttery. EW! I do not want to feel sick after eating a bag of popcorn, that is the worst! Skinny Girl popcorn has just the right amount of flavor without being too overpowering. They also carry two other flavors besides the butter: rosemary and sea salt, and lime and sea salt. Each bag is only 160 calories, so get popping!
These protein bars are 100% all natural and contain only real ingredients, none of that processed junk. Each bar has 12 grams of protein. I will also reach for these to satisfy my sweet tooth, along with the Kind bars. They have a chewy consistency, but also have that nice crunch because of the nuts. Above I linked the variety pack, but you can purchase just one flavor if you´d like. These bars have a higher sugar content than the Kind bars, but all the sugar is from fruit (dates and figs). Even though the sugar is all natural and comes from the fruits within the bar, be careful how many you eat in one sitting. That sugar will add up! My favorite RX bar flavors are: Chocolate Chip, Mint Chip, Maple Sea Salt and Apple Cinnamon. These are sold online and in grocery stores.
Applegate Naturals Chicken Patties
These are obviously not a grab and go snack since they need to be cooked in the oven, but they are delicious and one of my favorite snacks! At least this is a snack for me, haha! I love to brush on some olive oil before popping a patty in the oven, it gives the chicken patty a nice crunch and golden color. Each patty is 180 calories and has 12 grams of protein and no grams of sugar! I would not say these chicken patties are overly flavorful, but I love them. If they are too bland for you, you can always add seasoning or a dipping sauce.
Bell Peppers and Hummus
My favorite vegetable is bell peppers and I love pairing that with my favorite hummus: The Mediterranean Chef Grandma´s Hummus. Some other vegetables you can pair with this amazing hummus would be carrots, jicama, celery, and snow peas. Pretty much any vegetable with a little hummus would make for a great snack!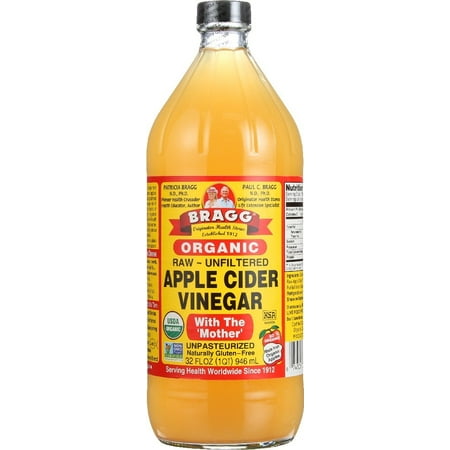 Apple Cider Vinegar
What is it? Apple Cider Vinegar is apple juice that yeast was added to – this caused the sugars to change to alcohol, causing it to ferment. Apple Cider Vinegar has been used for centuries. Externally it can be great for treating acne, uneven skin tone, and wounds. Internally it can be great for weight loss, heart health, and can even be used to treat dandruff. A study also found that apple cider vinegar helped those with Type 2 Diabetes regulate their blood sugar and insulin levels. Because Apple cider vinegar is extremely acidic you want to make sure and dilute it with water. I recommend doing 2-3 tablespoons of Apple Cider Vinegar in a 8 oz. glass of water. Some do not like the taste of apple cider vinegar, but I love it! There are so many health benefits to drinking apple cider vinegar.
Tips & Tricks:
I can be so dedicated when it comes to clean eating, but I am one of those people who cannot have a ¨cheat day¨. If I get a taste of that amazing cake or a handful of chips I cannot stop! Once I fall of the dieting bandwagon there is no getting back on for me! I immediately start craving those foods all the time. What I have to do is have healthy ¨cheats¨.  In many people´s books these would not be cheats, but they keep me going on my diet just enough, but do not prevent me from falling off. Below I have listed some of  my favorite healthy ¨cheats¨.
Flourless Paleo Pumpkin Chocolate Chip Muffins